Olean Area Federal Credit Union Announces New Name: High Point Federal Credit Union!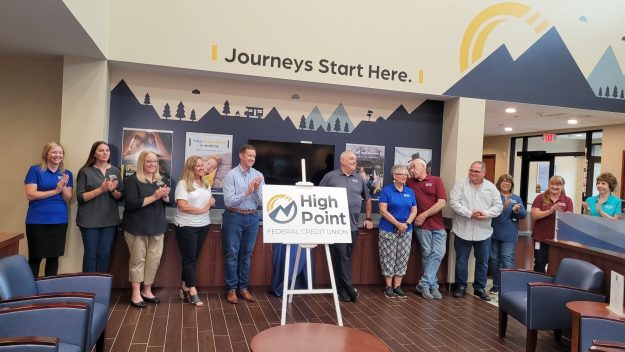 Olean Area Federal Credit Union, the second largest credit union in Western New York, has announced a name change to High Point Federal Credit Union. By changing its name, the credit union is demonstrating its ongoing commitment to growth and to its mission to provide members personal service and affordable products that meet their financial needs throughout life's journey. The High Point brand, including a new logo, tagline, and visual identity, launched August 1st. The change in brand does not reflect a change in ownership and will remain 100 percent member owned and headquartered in Olean, NY.
A site has been found for the credit union's first site outside Allegany County, aiming to serve the Bradford community. "We're under contract, and we hope to close this year," Rich Yeager, President and CEO said, with construction expected to begin in the spring.
Olean Area FCU has grown throughout its 50 years of service, beginning in 1972 as Olean Dresser Clark Federal Credit Union, serving the employees of Dresser Clark. Today, they have evolved and expanded their service to anyone who lives, works, worships, or attends school in Allegany and Cattaraugus Counties, NY, and McKean and Potter Counties, PA.
Although the name change took effect on August 1st, services for members will not change. Members will continue to access account information and their normal products and services in the same way they always have. All existing account numbers, card products, and checks will continue to work as before. Member's will be required to update their Digital Banking App, but all credentials and navigation will stay the same. All credit and debit cards will still work as they should until new cards are reissued during the first quarter of 2024.
President and CEO, Rich Yeager stated, "Although our brand name changed, our core values and commitment to our members remain the same. In fact, it's even stronger. Our mission continues to be to provide optimal financial services at every stage of your life, always striving for your success. We are excited for the next chapter of our journey and are grateful for our members' and communities' support!"
The credit union's purpose to provide personal service and affordable products will remain the top priority throughout this transition and beyond. Members will start to see communications, updated materials, and additional operational information in the coming weeks as the name change takes effect.