Don't Get Caught in an Election Scam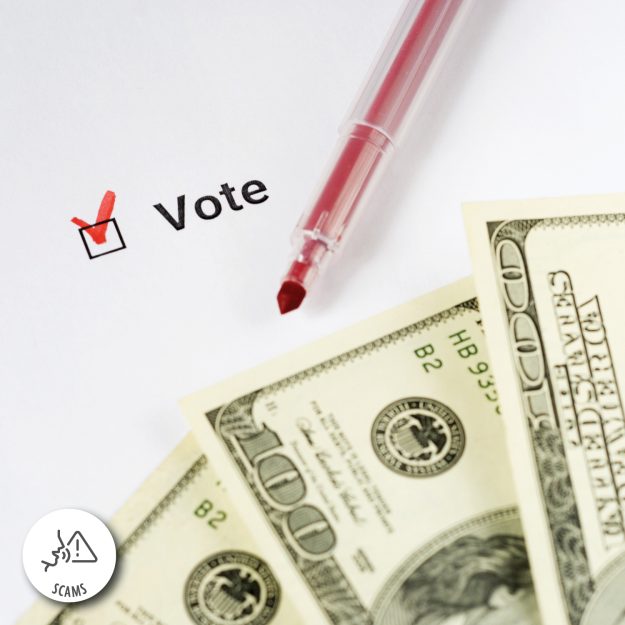 Democracy is a privilege that's upheld by the election process. But scammers are out to hijack this process and cause havoc throughout election season. Here are three red flags to watch out for this time of year to avoid an election scam.
1. Eleventh-hour campaign contributions
This scheme targets voters right before elections by asking them to make a donation toward their chosen candidate's campaign. They'll claim to represent the candidate and suggest that the candidate just needs one big push to move to the front of the line.
Unfortunately, if the target believes the caller and makes a donation, they'll be giving money helping to line a scammer's pockets.
Stay safe: If you'd like to contribute to a candidate's campaign, reach out to campaign headquarters on your own through their website.
2. Polling for information
During election season, informal poll-takers and petitioners are everywhere while canvassing voters. Once they have your attention, they'll ask who you're voting for, request that you fill out a survey or have you sign an election petition on a particular issue. But first, some will say they'll need your personally identifiable information (PII), like your name, date of birth, home address and even your Social Security number. If you oblige, you'll be sharing your information with a scammer.
Stay safe: Never share your PII with an unverified contact. If you do decide to fill out a voter survey, be super-selective about the information you share. Don't share your Social Security number, driver's license number or any other information that can be hijacked for crime. 
3. Voter re-registration
In the weeks leading up to Election Day, you may get a bogus voter registration form, claiming your name has been mistakenly removed from voter rolls. They will say you can get back on by filling out this form and mailing it out. Alternatively, they'll reach out over the phone, text, or email, and tell you to register by responding. Naturally, this is an election scam!
Stay safe: Remember that you can only register to vote by mail. In addition, there's no reason to believe your registration is no longer valid. If in doubt, search your state's Secretary of State website.
Stay safe, and may the best candidates win!