Your Complete Guide to Secure Mobile Banking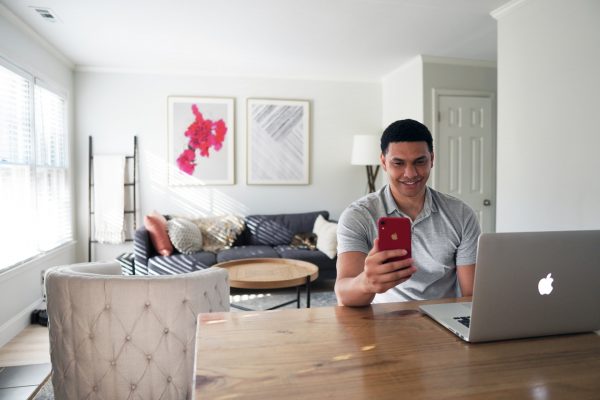 In response to a rise of mobile banking scams, the Consumer Financial Protection Bureau (CFPB) has published new guidance on unauthorized electronic funds transfers, or EFTs. With more people using electronic banking as a holdover from pandemic times, it's important for consumers to be aware of its vulnerabilities and how to protect themselves from scams. Here's your guide to secure mobile banking and how to stay safe online.
What are the risks of mobile banking?
Unfortunately, like all transactions happening over the internet, mobile banking has some built-in risks. First, hackers can break into a phone and an account with the intent of stealing money and info. Also, phishing scams that target people over the phone can lead unsuspecting consumers to share login information with scammers so they can hack away. Finally, bogus emails and messages appearing to be from your credit union can lead you to install malware on your device.
How to bank safely online
Consider using a VPN. A VPN (virtual private network) gives you a private network, even when you're using public Wi-Fi, thus increasing your internet usage security by encrypting traffic to the VPN service provider and allowing internet traffic through a chosen trusted source.
Never share your password. Don't share your password with anyone, and follow suggested guidelines for choosing a strong password, including alternating between uppercase letters, lowercase letters, numbers, symbols, and increased length beyond minimum requirements. Also, choose a unique password you don't use elsewhere. Change your password if your password is exposed or becomes known by someone other than yourself.
Brush up on your knowledge of scams. Never answer a text or email that asks for account details, even if it appears to be from your credit union. Also, always be wary of unsolicited phone calls and banking alerts. Follow Olean Area Federal Credit Union on our social media pages and blog page for information on current scams. Also visit ftc.gov for the latest Consumer Alerts and up-to-date security protocols.
Protect your phone. Consider installing an antivirus app on your phone as well as a location-tracking app so you can find your phone if it gets lost. Be sure to lock your phone after using it, log out of the mobile banking app when you're done, and always keep your phone in a safe place.
Follow the tips outlined above for secure mobile banking and stay safe!
Remembering that technology is constantly changing and improvements to security are always occurring within mobile banking applications, stay on top of industry trends and current security availabilities.