Olean Area Federal Credit Union Awards Scholarships to Collegebound Seniors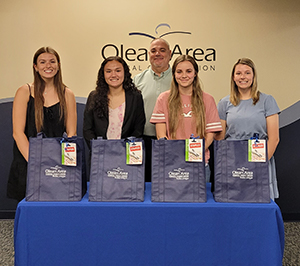 Olean, NY – Olean Area Federal Credit Union has awarded $2,000 in college scholarships to four high school seniors to help finance their college education.
The students, who are members of Olean Area FCU, were chosen based on their outstanding academic and extracurricular achievements.
"Each year, I look forward to meeting the students and awarding them with their well-deserved scholarships." said Richard Yeager, CEO "This year was especially exciting, as we were able to provide scholarships to students from 3 different schools in our field of membership."
The high school seniors who received the awards were: Madison Callen of Allegany-Limestone, Fransisca Childs of Hinsdale, Ella Malogrino of Oswayo Valley, and Ellie Strade of Allegany-Limestone High School.
In addition to the Olean Area FCU Scholarship, Madison Callen, Fransisca Childs, and Ella Malogrino were also awarded scholarships through the New York Credit Union Association, receiving $750 each.