Olean Area FCU ranked among top Commercial Lenders.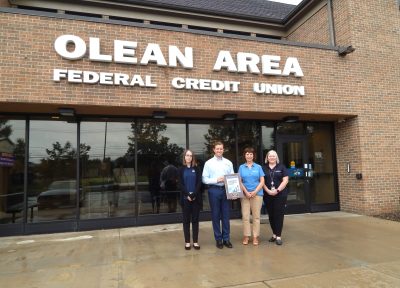 Olean Area Federal Credit Union (FCU) was recently ranked among the top 20 largest Buffalo Commercial Lenders by Buffalo Business First. With four branch offices, an expanded Field of Membership, and a $47.41 million Commercial Loan Portfolio, Olean Area FCU earned its seat among 19 other reputable financial institutions in Western New York.
"It's exciting to see our credit union on this list," said Olean Area FCU's Director of Commercial Lending, Mike Smith. "I sincerely believe this achievement can be attributed to our focus on excellent service and providing the best possible products to our members,"
Olean Area FCU offers a variety of commercial products to meet businesses everyday needs. Their deposit products include business checking, savings, certificates, and merchant services. Their commercial lending programs give local business owners peace of mind knowing that their commercial team is comprised of local lenders making local decisions. Lending services include term loans, lines of credit, commercial mortgages, credit cards, as well as offering loan programs through the Small Business Administration (SBA).
Over the past year, while many business owners navigated their way through the pandemic, the Credit Union assisted over 250 local organizations with over $21 million in funding through the Paycheck Protection Program (PPP).
As Olean Area FCU approaches their 50th anniversary in 2022, CEO Richard Yeager recently commented on their growth and dedication to service, "To be included as one of the top commercial lenders in our area reflects our commitment to the communities we serve. We strive to give our commercial members flexible rates and terms to assist in their growth, and in turn, the growth of our local economies."
Olean Area FCU is the second largest credit union in Western New York, with assets of $388 million. It currently serves over 19,000 members with four locations: 1201 Wayne Street & 206 North Clark Street in Olean, 180 West Main Street in Allegany, and 160 South Main Street in Portville, NY. In addition, Olean Area FCU recently opened an Operations Center at 234 Homer Street in Olean.