Olean Area FCU Promotes Four to Executive Roles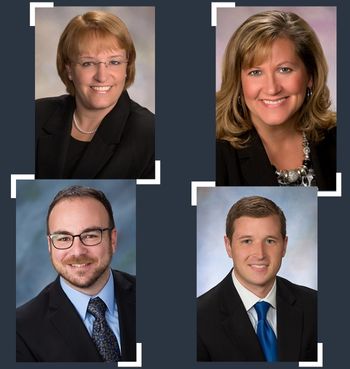 Olean Area Federal Credit Union (FCU) has promoted four directors to Vice President positions. "Our Credit Union is committed to continuous improvement and expansion of our products and services to best meet the expectations our members deserve. Each of these key positions is being filled by professionals with extensive experience and I am confident they will be successful in their new roles," said Rich Yeager, President & CEO.
Tonya Doxey has been promoted to Vice President of Compliance. She began her career with the Credit Union over 30 years ago as a Teller, quickly advancing to Assistant Head Teller. She was then promoted to Assistant Loan Officer, earning the promotion to Loan Officer in 2002. In 2005, Tonya was promoted to Member Service/Lending Coordinator, a position she held until 2009 when she became the Manager of Member Services. In 2012, Tonya changed focus and became the Manager of Compliance, with a promotion to Director in 2020. Tonya is responsible to ensure the credit union's overall compliance with applicable rules, regulations, and statutory requirements, across all departments, Bank Secrecy Act, Due Diligence, Legal Notices, Audit and Security.
Joseph Leo has been promoted to Vice President of Information Technology. (IT) Joe joined the Olean Area FCU Team in 2019 as the first Director of IT. He is a graduate of Western Governor's University with a bachelor's degree in business and MBA in Information Technology Management. Joe joined our team with over 20 years of IT and Managerial experience, immediately elevating the strength and integrity of the IT Department. He will continue to oversee, plan and secure IT and infrastructure to meet present and future member needs using technology in improving our processes and expanding our services.
Michael Smith was promoted to Vice President of Lending. Mike is a graduate of SUNY Buffalo with a bachelor's degree in Business Administration. Prior to joining our team, Mike had over 8 years of banking experience which consisted of leadership development, credit analysis, and the title of Municipal Loan Officer. Mike joined Olean Area FCU in 2014 as a Senior Commercial Lender, quickly earning the promotion to Manager of Commercial Operations/Senior Commercial Lender in 2016. His hard work and dedication to commercial members earned him the promotion to Director of Lending in 2021. Mike is responsible for the management and oversight of our Retail Lending, Commercial Lending, Loan Operations, Card Services, and Asset and Recovery Departments. His primary role is to direct and oversee all aspects of lending activity for the Credit Union and to ensure effective and efficient operations, quality of member service, and compliance with existing regulations and policies.
Audra Stevens has been promoted to Vice President of Operations. Audra is a graduate of St. Bonaventure University with a bachelor's degree in Business Administration & Marketing. She joined the Credit Union team with over 20 years of Banking Management and Senior Management experience in areas of; Marketing and Sales, Branch Management, Operations, Regional Sales, and Banking Services. She joined Olean Area FCU in 2011 as the Manager of Sales and Marketing, earning a promotion to Director of Operations in 2019. Audra oversees the operation of our branch network and Marketing Department, to ensure efficient product and service delivery to our membership.
Olean Area FCU is currently one of the largest and most respected full-service Credit Unions in Western New York with assets over 400 million. The credit union currently serves over 19,800 members with four locations, 1201 Wayne Street and 206 North Clark Street in Olean, 180 West Main Street in Allegany, and 160 South Main Street in Portville.