Olean Area FCU Awards Scholarships to Collegebound Seniors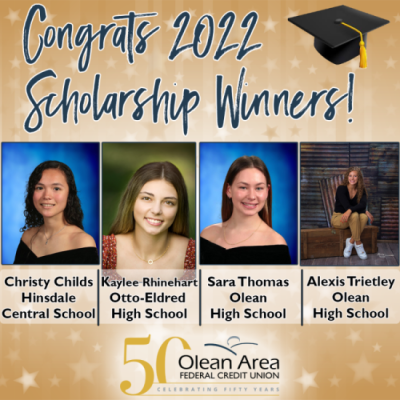 Olean Area Federal Credit Union has awarded $2,000 in college scholarships to four high school seniors to help finance their college education.
The students, who are members of Olean Area FCU, were chosen based on their outstanding academic and extracurricular achievements.
"As a community-focused institution, we are always looking for opportunities to give back." said Richard Yeager, CEO "The Scholarship Program allows us the opportunity to give back to our younger members as they embark on their college careers."
The high school seniors who received the awards were: Christy Childs of Hinsdale, Kaylee Rhinehart of Otto-Eldred, Sara Thomas of Olean, and Alexis Trietley – also of Olean High School.
In addition to the Olean Area FCU Scholarship, Christy Childs was also awarded scholarships through the Jamestown Credit Union Chapter and the New York Credit Union Association totaling an additional $1,500.