Olean Area FCU Announces Promotions & New Hire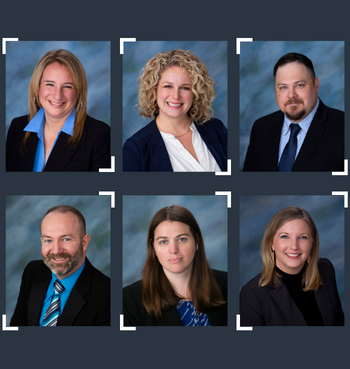 Olean Area Federal Credit Union (FCU) recently promoted four employees to Management positions and one to a Director roll. The Credit Union has also appointed a new Director of Human Resources (HR). "The promotion of these employees was an essential next step, as both their individual responsibilities and our company as a whole continue to grow," said Rich Yeager, President & CEO.
Kelly Fernandez was promoted to Portville Branch Manager. Kelly joined Olean Area FCU in February of 2022 with over 20 years of banking and credit union experience. Her diverse knowledge in teller, phone/member service, lending, and supervisory responsibilities provide the skillset necessary to succeed in this position.
Melissa Pawlowski has been promoted to Retail Lending Manager. She began her career with Olean Area FCU in April of 2013, as a Member Service Representative. She quickly advanced to Retail Lender and in 2020, Melissa earned the promotion to Retail Lending Supervisor. Melissa is responsible for leading the retail lending team and assisting members with their lending needs. In addition, she manages the credit union's secondary market mortgage program, is a voting member of the Credit Union's Directors Loan Committee, and directs the Credit Unions Second Review of Declined Loans for Fair Lending practices.
Jacob Piatko was promoted to Facilities & Security Manager. Jake began his career with the CU in 2020 as our Security Administrator. Jake is a graduate of Kent State University with a Bachelor of Business Administration, majoring in Computer Information Systems. Jake came to us with over 14 years of experience including It Technician, Infrastructure Technician, Infrastructure Administrator, Network Administrator and most recently as our IT Security Administrator. He also leads our Physical Security Committee.
Stewart Fuller has been promoted to Facilities & Physical Security Manager. Stewart began his career with the CU in 2020 with over 20 years of experience in facilities, general contracting, security, and management responsibilities. Since joining the CU as Facilities & Security Supervisor, Stewart has proven his ability to secure our buildings and improve the safety of our employees through education and training. Stewart is lead on our Physical Security Committee and is also a key member of the CU Building and Planning Committee.
Michelle Freeman has been promoted to Director of Finance. She began her career with Olean Area FCU in 2011 as an Accounting Intern. After earning her Bachelor's in Accounting, she began her role as Accounting Assistant. In 2013, she earned her Master's Degree in Business Administration. She quickly earned promotions to Financial Analyst, Senior Financial Analyst, Finance Supervisor, and Finance Manager.
Tamara Warner was hired as our new HR Director. Tamara is a graduate of SUNY Fredonia with a Bachelor's in Psychology and a Master's in HR Management from Nazareth College. She is PHR Certified and has over 17 years of HR Management experience, most recently with PEKO Precision Products in Rochester.
Olean Area FCU is currently one of the largest and most respected full-service Credit Unions in Western New York with assets over 400 million. The credit union currently serves over 19,800 members with four locations, 1201 Wayne Street and 206 North Clark Street in Olean, 180 West Main Street in Allegany, and 160 South Main Street in Portville.