Olean Area FCU Brings Mad City Money to Cuba-Rushford Seniors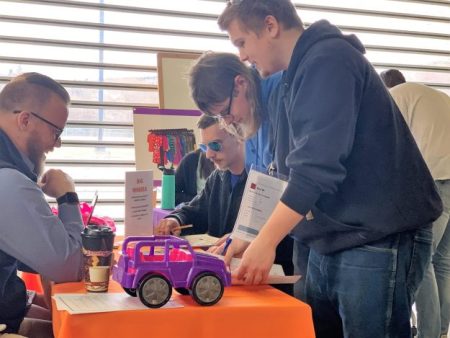 Cuba, NY. Olean Area Federal Credit Union staff were welcomed into the Cuba-Rushford school to share their Mad City Money program with nearly 65 high school seniors. The Credit Union (CU) first implemented Mad City Money in 2013, presenting the program in Olean and Allegany high schools. With a brief hiatus due to COVID-19, the credit union employees were excited for the opportunity to bring this program back to local youth.
Originally purchased through the Credit Union National Association (CUNA), Mad City Money is a financial education tool that helps high schoolers get a taste of the "real world." Students get to choose an "identity" at the start of the program, where they're given an occupation, salary, spouse & children, student loan & credit card debt, and medical insurance payments. They then have to visit various stations to decide on what housing, transportation, childcare, food, and other necessities to purchase while staying within their budget.
Students learn how to calculate their credit card monthly payment, practice writing a check, experience unexpected bills – as well as unexpected financial gains, and discover how much they can actually afford with their given "identity." While some of the students had money left over at the end to put in their savings, many had to return to certain stations to switch out their purchase for something more affordable.
When asked what the main takeaway of this program was for the students, they reiterated a better understanding of their parents' spending habits, a realization of how expensive living in the "real world" is, and the importance of paying off debt. Being able to experience these scenarios in a controlled way provides students with a level of financial wisdom they likely wouldn't have otherwise.
Olean Area FCU is eager to bring Mad City Money to high schools in their expanded field of membership, which includes all of Allegany, Cattaraugus, McKean & Potter counties. For more information and to schedule Mad City Money at your school, email Marketing@oleanfcu.com or call (716) 372-6607.